LPG Accessories
Depending on the environment you use your LPG products you should consider LPG accessories which will reduce the hassle of maintaining your LPG setup. Have a look at our LPG accessories below which will ensure the smooth running of your LPG system.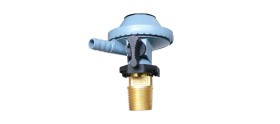 Gas Pressure Regulator
Suitable for Domestic or Camping use, the Gas pressure regulator is a twin stage regulator, 2 kg/h maximum capacity, fit for any 9 kg up to 13 kg liquefied gas cylinder. This regulator has a 10 year lifespan in a standard environment.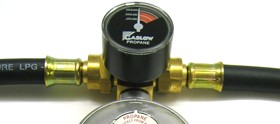 Automatic Changeover Valve
The super convenient automatic changeover valve is the perfect solution to running out of gas at the wrong time. Connect multiple series of gas bottles to each valve and let the Automatic changeover do the rest. An indicator will show when one supply series is empty and will automatically switch over to the reserve supply. This gives you plenty of time to replace the empty bottle/s while the reserve is in use. Once you have replaced the bottle/s, the automatic changeover valve will then treat the current reserve as the main supply and the replaced bottles as the reserve to keep you with a constant supply when you need it the most.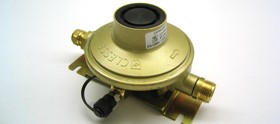 Manual Changeover Valve
The convenient changeover valve is the simple solution to running out of gas at the wrong time. Simply connect 2 gas bottles to the changeover valve and turn the dial to the intake tube of the gas bottle you want to use. When the bottle is empty, simply turn the dial to the other side to begin using the second bottle. No fuss, a simply convenient solution.